Pricing Plans
Plans for personal and small business taxes
Basic Personal Tax Return
$99

Tax Preparation, online or in person, for a Federal 1040 Completion and 1 State Return
Small Business Tax Return
$149

Tax Preparation, online or in person, for 1120, 1120S, or 1065 (not 1040)
*Additional forms, schedules and states extra.
Small Business Special - 20% Off for New Customers (must include a Schedule C, CEZ, E, 1120, or 1120S)
All Personal (1040) tax returns protected by
Tax Protection Plus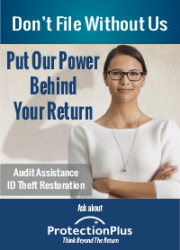 Tax Protections Plus – We have a new relationship with Tax Protections Plus.  All personal tax returns we file are covered by the following:
Audit protection – Up to $1,000,000 in services to resolve notices, inquiries or audits related to the client's tax return
Identity Theft Restoration – One year of comprehensive, personalized recovery services for ID theft incidents.
Tax Prep Guarantee – Up to $2500 reimbursement for added expenses due to legitimate preparer error.
Beginning with the 2023 tax year, Protections Plus is now offering the service on business tax returns (1065, 1120, & 1120S) for a fee of $95. This must be purchased at the time the tax return is filed to qualify for the protection.